We are currently in an age where numbers garner attention. Wherever we look, numbers surround us: in ROI, in conversion rates, in tight timelines, in reduced costs with chatbots, and beyond. Amid this deluge of numbers, we continue to speedily build products for people. Real people. The people we design for are complex, emotional and often, hard to understand. What are we doing to keep the human element at the center of our organizations? How do we bring our humanity to work to capture the intricacies of being a real person? As user experience professionals, what should we pay attention to in order to ensure human focus?
SHOPIFY Montréal
490 Rue de la Gauchetière O, Montréal, QC H2Z 0B2
Inscriptions:
Meena Kothandaraman
Experience Strategist at twig+fish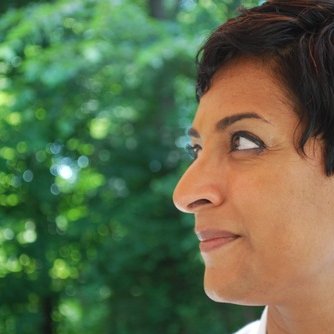 Meena Kothandaraman
Experience Strategist at twig+fish
With more than 25 years of experience, Meena Kothandaraman has consulted to emphasize the strategic value of customer experience across product, space and service. She truly believes that businesses can achieve greater focus by better understanding the behaviors of people: not only those who the business seeks to serve, but also those who create the products from within the company. She is passionate about studying human realities and aspirations, as it relates to experience design.
Meena is part of twig+fish, a research and strategy practice based in Boston, MA, that espouses these research beliefs, while maintaining a utopic work-life balance.
Apart from her core consulting practice, Meena is a key contributor to the Bentley University Human Factors and Information Design (HFID) graduate program in her 15 year tenure. She has helped evolve the course offerings to stand as one of the top human factors/user experience programs worldwide.
She holds an M.S. in Information Resources Management from Syracuse University – but most importantly, is a proud Canadian who also holds a B.Com. in MIS from the University of Ottawa, Canada.